【reschedule】Science Agora 2021
We have decided to participate in Science Agora 2021. We will talk about our current project which is a collaboration between archaeology and computer science. We will interact with the public in an easy-to-understand manner with quizzes. This session will be conducted primarily in Japanese, but materials will be provided in English as well. Questions and comments will also be accepted in English. Please feel free to join us!
Date: 14:00-15:30 13:00-14:30 (JST), October 11, 2021
Venue: Zoom Webinar (Registration required: Registration will be announced later.)
Eligibility: Everyone is welcome to attend.
Participation fee: Free
Title: Archeology×Engineering Find the insect in the earthenware!
Team name: DRA Project from Kumamoto University
Israel Mendonça dos Santos (Assistant Professor, Faculty of Advanced Science and Technology, Kumamoto University)
Hiroki Obata (Professor, Faculty of Humanities and Social Sciences, Graduate School, Kumamoto University.)
And three others.
Abstract:
We are an inter-disciplinary team that combines archaeology and computer science to provide useful tools to study human history. In recent years, there has been an increasing interest on identification of seeds and insects contained in potsherds from the Jomon period. Researchers have been using x-ray images to examine these sherds and classify its organic inclusions. However, such task requires not only knowledge in botany and entomology, but also experience in general x-ray image analysis. We aim to provide an AI-powered tool that allows a common person, with little training, to be able to efficiently identify these organic inclusions. We would like to discuss with you the future of archaeology and computer science that will contribute to the elucidation of human history.
➤
registration page
:
https://www.jst.go.jp/sis/scienceagora/2021/session/11-a13.html
Cf. Grant-in-Aid for Transformative Research Areas (A)
Excavating earthenware Technology development-type research for construction of 22nd-century archaeological study and its social implementation
http://www.fhss.kumamoto-u.ac.jp/archaeology/earthenware/en/
Contact:
Israel Mendonça dos Santos (Assistant Professor, Faculty of Advanced Science and Technology, Kumamoto University)
Email: israel@cs.kumamoto-u.ac.jp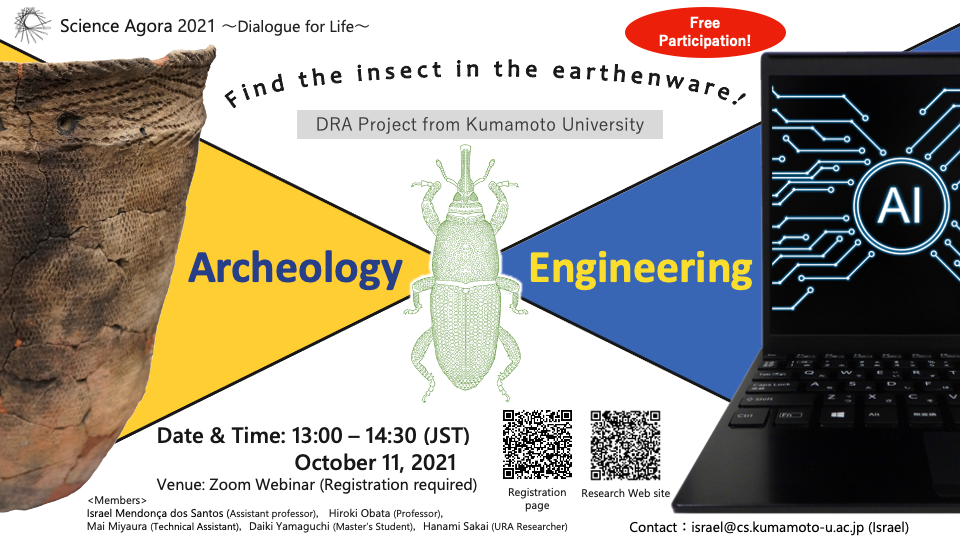 *Click the image to enlarge.